Local Orthopaedic Surgeon and Boston Marathon Veteran Shares Health Tips this Father's Day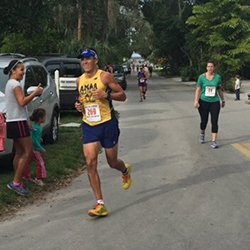 CLEARWATER, Fla. – June 16, 2017 – William Cottrell, M.D. spends his days mending injured knees and shoulders. He understands the importance of getting his patients up and moving again. When he's not in the operating room, Dr. Cottrell is an avid runner, having completed the Boston Marathon six times.
"I really started out as a casual runner, jogging two to three times a week, but then I wanted a bigger challenge. I ran my first marathon in 2009, and now I run two or three races a year," said Dr. Cottrell, an orthopaedic surgeon with Orthopaedic Associates of West Florida in Clearwater.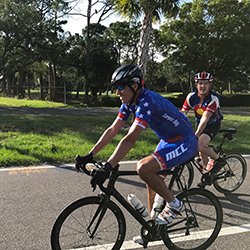 Dr. Cottrell says running has also helped him better understand and serve his patients.
"Regularly exercising gives me insight into just how hard certain activities can be on the joints. I recommend that my patients, particularly those who are middle aged, start by exercising slow. If you aren't a runner, don't just start running. That can really cause problems, especially if you've ever had a knee injury, or are out of shape. I always tell my patients to start with a lower impact activity, such as cycling or swimming and then work your way up. Start low and go slow," said Dr. Cottrell.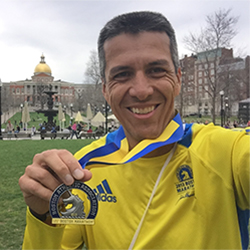 It's a healthy philosophy that Dr. Cottrell is also passing on to his three kids. His oldest daughter starts at Duke University in the fall, and his son is now following in his dad's footsteps. He's joined the cross country and track teams, and regularly rides his bike.
"I really stress to them that staying healthy is a lifelong project, and you are never too old or young to start making a healthy diet, exercise and lifestyle a priority. Being a dad, I'm even more conscious of it, because I want to pass on good habits to them."
For more information about visit www.orthowestfl.com or call 727-461-6026.
About Orthopaedic Associates of West Florida: At Orthopaedic Associates of West Florida, or family of board-certified physicians have been taking care of bay area patients for more than 30 years. We merge state-of-the-art technology with unsurpassed physician skills. OAWF provides patients with complete care offering two in-house MRI locations, X-ray at each of our four offices, Bone Densitometry, EMG/NCV, Physical and Hand Therapy and an Orthotics/Prosthetics department. We have four convenient locations to serve patients across the entire bay area.